IT'S TIME TO FIND YOUR DREAM GRADUATE SCHOOL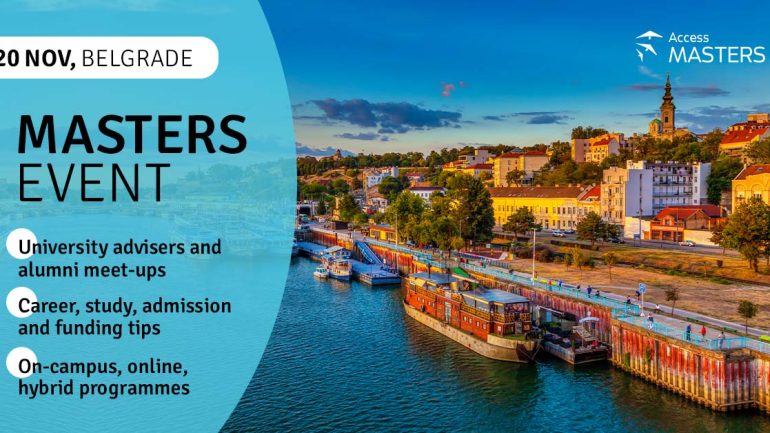 IT'S TIME TO FIND YOUR DREAM GRADUATE SCHOOL
Are you ready to find the Master's programme that will help you achieve your goals? The Access Masters event in Belgrade will introduce you to reputable business schools and help you choose the right path to success. On 20th November you will have the opportunity to meet up with representatives from top-ranked and accredited schools, such as Bocconi, IE University, Vlerick, EADA, Hult International Business School, and more.
Get the most out of the event by taking advantage of its perks. From personal meetings to presentations, Access Masters has a lot to offer.
Here is what you can expect at the event:
Meet the schools
Use this opportunity to meet with reputable business schools, discuss you career goals and find out how they can help you achieve them. Prepare all your questions for the university advisers and find out what the graduate experience is really like.
Discover diverse programmes
Find some of the best programmes in the fields of Business, Management, Marketing and more. Learn about the main differences between on-campus, online and hybrid programmes and decide what's best for you. Find the best study and career destinations for your needs.
Get advice from the experts
On-site experts and advisers can help answer questions concerning admission, visa, funding and career opportunities. You can also receive tips for the TOEFL, IELTS, GRE or GMAT tests and how to improve your scores.
All that and much more awaits at the Access Masters event in Belgrade on 20th November at the Hyatt Regency Hotel. Register now for free! https://www.accessmasterstour.com/link/Lfw